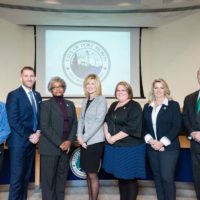 Three rezoning requests will have have their first reading in front of Port Huron City council this evening. The new owner of the former First Congregational Church located in the 1100 block of 7th Street will be asking the city to rezone the block bound by Court, Wall, 7th and 8th Streets. Dr. Marwan Shuayto of Michigan Neurology and Spinal Center would like to convert the building into a medical office which would be permitted in a Multi-Family residential zone. It is currently zoned for single family homes.
The owner of the Smith Family Funeral Home building on 7th Street is requesting a zoning change from Central Business District to Multi Family residential. Kyle Schieweck is seeking to build nine luxury apartments inside the former funeral home building.
Port Huron City council will also be asked to rezone a vacant parcel at 300 Griswold Street, owned by Acheson ventures and adjacent to the Blue Water River Walk, from industrial to Central Business District. The 8 acre parcel was previously a rail yard and Acheson say the CBD designation would allow for more forms of future development on that cite.
Council is also expected to sell a city owned parcel at 800 Elk Street that was acquired during a tax foreclosure to a local couple who owns property adjacent to the lot. Port Huron City Council Scheduled to meet at 7pm tonight at the Municipal Office Center.