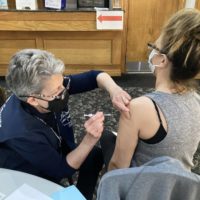 There are plenty of more opportunities this week to receive the COVID-19 shot in the Blue Water Area.
Wednesday, May 5th, will see another walk-in vaccine clinic at the Knight Club in Marysville between 2 and 7pm. The clinic is open to those 18 and over and preregistration is not required.
Walk-ins will also be welcome at the Capac Council on Aging Office Wednesday from 10am to 3pm. Appointments are also available through the health department's website.
There will be a drive-up event Thursday at the Marysville Fire Department between 3 and 6pm. Preregistration is not required but is availible online. Parental consent needed for those under 18 years old.
And on Saturday, the Harvey Reinvestment Center on 24th Street in Port Huron will be the site of another walk-in vaccination clinic between the hours of 10am and 4pm.