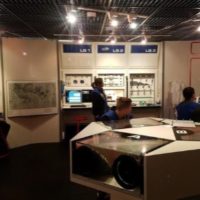 St. Clair County Community College is getting ready to open a new Challenger Learning Center inside their Experience Center in Port Huron. The space-themed experience honors the victims of the 1986 Challenger disaster while also teaching school age children about science, technology, engineering, and mathematics. Chief Operating Officer for SC4 Kirk Kramer tells our Paul Miller pre-registration is now open.
"We became aware of the Challenger organization and talked to them about bringing one to Michigan," said Kramer. "It all came together and its becoming reality. We launched our website… and that includes an opportunity for early registration."
That website is challenger.sc4.edu. Kramer says not only is the Challenger Learning Center open for students and educators, but that it can also be used for businesses, corporate retreats, and community members. Half day and full-day experiences are available, and pricing varies based on the mission experience. SC4's Challenger Learning Center is the only in Michigan and one of forty nationwide.