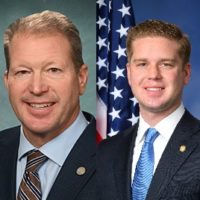 It was a big night for Democrats across the state of Michigan, but local state house and senate districts will remain Republican.
With over 90% of precincts reporting, Republican Pamela Hornberger is leading Kevin Hertel in the hotly contested 12th State Senate District, which includes portions of Macomb and Southern St. Clair county.
In the 25th Senate District, incumbent Dan Lauwers fended off a challenge from Bert Van Dyke to represent much of St. Clair County and the Thumb for another term.
Republicans Jay DeBoyer, Andrew Beeler, and Jaime Green earning a spot in the state house in the newly drawn 63rd, 64th, and 65th districts.
That however not enough to keep the balance of power in the Legislature with the GOP, with both houses expected to have democratic majorities come the new year.