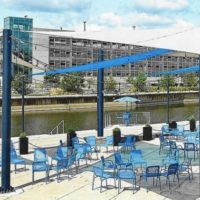 It'll be a drastic makeover for one of Port Huron's smallest parks. The Military Street Pocket Park, located southwest of the Military Street Bridge, will receive over a half million dollars in funding from the Downtown Development Authority. Natacha Hayden is the DDA Director and told WPHM plans call for a new new canopy, seating, and stage area.
"Right now people miss the park quite a bit, they drive drive by it," said Hayden. "There will be a stage built into the park, which is the one thing I wish we had now."
Hayden says unfortunately one of the four trees in the park will be removed for the new canopy. Funding for the $515,000 project will come from the Water Street Tax Increment Financing District. Work is expected to begin later this summer and the general contractor is Boddy Construction.
DDA members Tuesday also approved purchasing a new city Christmas tree from Bronner's for approximately $47,000 and dispersed the remainder of their downtown façade grants. Bolstered by federal COVID-19 relief money, over a dozen local businesses will benefit from the program.
Pictured: An example of the approved design based on a Downtown Lansing park.