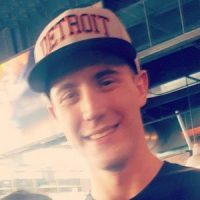 When are you on Rock 105.5?
Monday – Friday Noon to 6pm!
How long have you been in radio?
Just over 3 years, however I have only been on air just over a year.
Where are you from?
Grand Rapids, Michigan. Beer City, USA. Seriously I love beer.
My favorite place to hangout in Port Huron?
Anywhere near the water or in the woods. Love boating, hunting and fishing.
Relationship status?
Currently in a relationship. We just moved in together so I gues you could say its pretty serious?
Any pets?
Cat named Calvin but he lives in Grand Rapids with my parents.
If you could eat one food for the rest of your life, what would it be?
That's an easy one. Pizza all day, every day baby.
All time favorite movie?
Pursuit of Happyness
Describe yourself in 3 words.
Blunt, Passionate, Empathetic
If you could live anywhere in the world where would it be?
My favorite city is Chicago. Being a hipster , I would also say Portland.
If radio wasn't an option, what would you wanna be?
Another easy one, Sports Management.
What's your most irrational fear?
The unknown
What is your favorite alternative band?
This is way too hard of a question. I guess I would have to say Foo Fighters or Matchbox Twenty
Top 5 Favorite Musical Bands:
Logic, Foo Fighters, Atlas Genius, Lupe Fiasco, Matchbox Twenty
If you could have any superpower, what would it be?
Predict the future. Hence my fear of the unknown
Do you have any weird talents?
I can eat an entire XL pizza in one sitting. On second thought, is that really something to be proud of?
Who is your biggest celebrity crush?
Scarlet Johansson
What TV shows do you watch religiously?
Not a big TV person but I do watch A LOT of sports.
What's your most embarrassing moment?
I was in my Junior year of college at Oakland University. It was the homecoming basketball game and I
was a bit inebriated. Was asked to be part of a wheelbarrow race during a commericial break. Got about
ten feet with my friend on my back and face planted infront of over 3,000 people. Good times.
If you could choose a theme song for yourself what would it be?
Vacation by the Dirty Heads. Go look it up.
Is there anything else we need to know about you?
Not that I know of. I will let you know if I think of anything