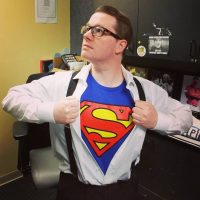 T.C.
When are you on Rock 105.5?
On a coffee I.V. drip weekdays from 9a until noon!
How long have you been in radio?
Going on 14 years, though a healthy, stress-free life has me looking much younger.
Where are you from?
I lived a pretty big chunk of my life in the suburbs of Detroit. Now, I hang my hat in Port Huron!
My favorite place to hangout in Port Huron?
Cool City Games where I fly my geek flag proudly! I also stop by The Raven Cafe for a chai tea when I can.
Relationship status?
I have a hot Canadian girlfriend. And unlike my years in high school, this time that statement is TRUE!
Any pets?
I have a cat Seren who I rescued very heroically from the jaws (A.K.A. tires) of certain death.
If you could eat one food for the rest of your life, what would it be?
Pizza can be pretty versatile, so let's go with that.
All time favorite movie?
Scott Pilgrim Vs. The World and I will fight anyone who says otherwise!
Describe yourself in 3 words.
Kind, Funny, Jedi
If you could live anywhere in the world where would it be?
Being right off the water here in Port Huron has spoiled me, so I'd have to say North Carolina. That state has an amazing coastline.
If radio wasn't an option, what would you wanna be?
I think I'd like to be a firefighter. Helping people is kind of my thing.
What's your most irrational fear?
That Marvel Studios will make a bad movie and/or kill off Captain America.
What is your favorite alternative band?
I'm a big Foo Fighters guy. I pretty much want to be best friends with Dave Grohl.
Top 5 Favorite Musical Bands:
Foo Fighters, The Offspring, Rise Against, Metallica, Huey Lewis and the News. I'm also into anything I can sing to from a lot of different genres.
If you could have any superpower, what would it be?
Telekinesis so I can be even lazier than I am now.
Do you have any weird talents?
I can do an eerily accurate impression of Mickey Mouse.
Who is your biggest celebrity crush?
I'm tempted to say Dave Grohl again, but I'll be serious and say Anna Kendrick (Just go read her tweets and try not to fall in love with her. I dare you!).
What TV shows do you watch religiously?
Archer, Arrow, Doctor Who, Face-Off, The Flash, Game of Thrones, Orange is the New Black, Supergirl, Supernatural, The Walking Dead, and WWE's Monday Night Raw.
What's your most embarrassing moment?
I came very close to having alcohol poisoning my freshman year of college. I had to go to the hospital and everything. Don't be a bonehead like me kiddies; drink responsibly!
If you could choose a theme song for yourself what would it be?
On Top of the World – Imagine Dragons
Is there anything else we need to know about you?
Uuuhhh…hit me up if you need someone to play Dungeons and Dragons!