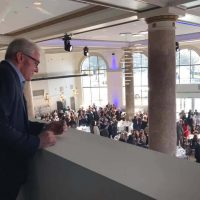 A new venue for weddings and events is now open in Downtown Port Huron. The former Michigan National Bank building, which is in the process of being transformed into City Flats Hotel, held it's first event in their new ballroom this past Friday. Playing host to the Blue Water Area Chamber of Commerce's Eddy Awards, about 300 community leaders got to take a first look at the grand ballroom in the former bank building's lobby. Chuck Reid, owner of City Flats Hotel, says he hopes to open the hotel's 18 boutique rooms later this year which will also be accompanied by a half-dozen condo units on the top floor of the building. "It's a new idea (the condos), we're going to turn the fourth floor into about six different condos," said Reid. "I'm going to buy one of them and then if people want to put it into the rental pool of the hotel… they'll be able to rent them out." Meanwhile, a floating bar called the "Fair Weather Grill" is expected to open later this month and will consist of a pontoon docked along side the hotel on the Black River. "We've got about a 60 foot boat that will be permanently anchored there," said Reid. "So not only seating on the water, but we'll actually have seating on the water."  Reid owns two other City Flats Hotels  in Holland and Grand Rapids. He also owns Sperry's Movie House in Port Huron, which will open a sister location in Holland next month that will have a similar look and feel to the Port Huron theater.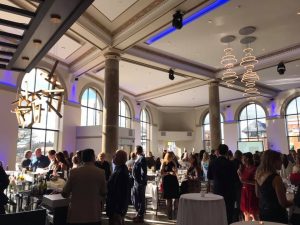 City Flats Ballroom during the Eddy Awards.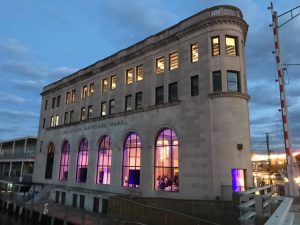 Exterior of City Flats Hotel.